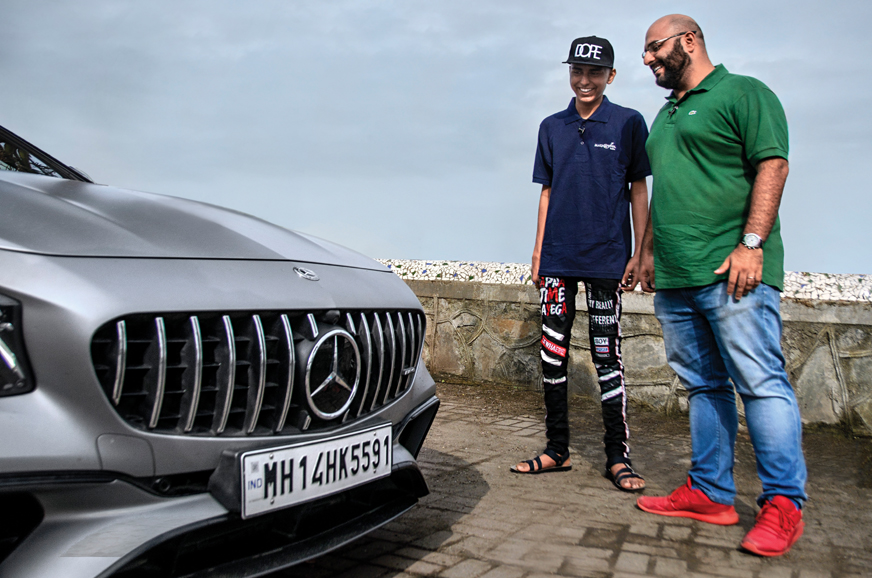 I feel fortunate – a loving family, good health, a job that pays enough to sustain my lifestyle and most importantly, a chance to drive (and sometimes own) a fair few lovely cars in India. And the fact that you, as a reader, get to read our opinions here (and usually take it as gospel) gives life a purpose too. While I might crib about not having certain things, I am thankful for what has been already given to me and thus feel privileged when I get to share the joy in any way possible.
Which is why when the good folks at the 'Make-A-Wish Foundation' contacted us at the Autocar India offices, I jumped at the chance to do some good; to make someone's day. To give them a memory that would last them a lifetime. And, most importantly, to give them the courage to power through what they are going through and put a smile on their face.
With aspirations of being an automotive engineer, Pankaj was very interested in the grand tourer's cutting-edge technology.
Meet Pankaj Kumar Ray, a 16-year-old diagnosed with Osteogenic Sarcoma or OGS, a rare condition that affects only about 100 people every year in India. At the age of 16, a kid is expected to play with his friends and attend school. Pankaj, sadly, spends a lot of his time in chemotherapy, beating OGS with every ounce of determination he can muster. That said, like most 16-year-old boys, Pankaj is a car lover and one of his wishes was to get a ride in an ultra-luxury car, or a supercar. Since we here at Autocar India are lucky enough to have access to some of the greatest machines on four wheels, we decided to make Pankaj's dream a reality.
While we could have chosen a hard-riding and loud, mid-engined supercar for the job, we knew Pankaj would be more comfortable in a more luxurious, but powerful, GT car. Thus, one of the obvious choices for the job was the Mercedes-AMG S63 coupé. Finished in a custom shade of matte grey, adorned with that cool Panamericana grille and rounding things off with a red interior, the S63 is bound to make people stop and look, even if you're not generally into cars.

Pankaj's ear-to-ear grin failed to hide his excitement.
That effect was exactly what we got when we pulled up to meet Pankaj an early morning in August. Walking out towards the car, he had a smile that stretched from ear to ear. "Hamare city mein aisi cars kabhi nahi dikhi hai," he said (we never get to see cars like this in our city), referring to his hometown, back in Bihar. As he reached for the door handle to get in, I could sense a feeling of nervousness that one feels when trying something out for the first time; but with a pat on the back and the door wide open, he hopped in with the enthusiasm you expect a 16-year-old to have around a 621hp car. Doors shut, seat belts on (without having to ask him to do it) and wide grin still equipped, we set off. Our route for the day was essentially whatever he wanted, and since he hadn't had the chance to get onto the Bandra-Worli Sea Link, that is where we headed first.
Always fun to be behind the wheel of a 621hp car.
As we got onto the Bandra Reclamation stretch just before the sea link, I asked if he wanted to know how fast and how powerful this car was. At his ginger smile and a positive nod, I flicked the switch, put the car into Sport, pressed the button that puts the exhaust into the naughty mode, and tapped the throttle. As the turbos spooled and boost built, the smile on his face quickly gave way to an expression of utter disbelief! While he enjoyed the speed, his recent treatment did mean he had to ask me to slow down a bit, as he felt uneasy; but not before he managed to ask, "Itni fast kaisey ho sakti hai yeh gaadi! Top speed kya hai iski?" (How can a car be this fast? What is its top speed?)
Now, what you must know here is that not only is Pankaj a car enthusiast in general, he also wants to finish his schooling soon (which has been delayed due to his treatment) and attend college here in Mumbai. He also wants to eventually become an automotive engineer and give the IIT entrance exam, too. He was more interested in the cutting-edge tech that goes into a car than in the car's design. This is also why he was absolutely fascinated with the Mercedes-AMG S63 coupé's dual-screen setup, the different driving modes the car has, and the 360-degree cameras set up all around the car.

Pankaj was intrigued by the screens on the S63.
In fact, he asked me about every single button on the dashboard and the central tunnel; and while he soaked up every little bit of information, he particularly loved the S63's cooled seats. But what pleasantly surprised him the most was the massage-seat option. While it did feel funny for the first few minutes, it seemed to make him relax a lot more and every few minutes, he would request if I could accelerate a little bit so that he could hear that mighty twin-turbo V8 engine. All in all, driving down the sea link in absolute comfort and back to Bandra was quite an experience, not only for him, but for me too. Because it doesn't matter how many times you drive a 621hp car, bringing the same experience to someone else is even more special.
As conversation turned from cars to what he liked in general, from being a fan of Badshah's music to Salman Khan movies, I took the chance to take a quick detour and park opposite Salman's Bandra house. At first, Pankaj refused to believe that was where his beloved superstar lived, but seeing a bunch of people taking selfies right next to us with Salman's house in the frame pretty much convinced him. However, even Salman's possible presence could not take away from the kind of presence the Mercedes-AMG S63 exuded. After a few minutes of staring at different parts of the car, especially the OLED tail-lamps, he sheepishly said, "Ab tak meri favourite car Audi thi, lekin aaj sey meri favourite car yeh Mercedes hogi." (Audis have always been my favourite cars, but this Mercedes is now my new favourite.)
The S63 replaces Audi as Pankaj's new favourite car.
We would have loved to spend a whole day with Pankaj, being his personal Mumbai tour guides, in what could very well be the most expensive tour vehicle in existence, but his overall reduced levels of energy meant we had to head back home. The Make-A-Wish Foundation did have one more gift to give him, though – a brand-new laptop where we hope he will read up on all the latest cars and bikes in the world while prepping for all his future endeavours.
A fist bump and hug later, I left, a V8 symphony blaring out of those exhausts as we pulled out. And as Pankaj drew further away in my rear-view mirror, I could still see a massive smile plastered across his face in what would most certainly be a day he will never forget. We here at Autocar India do hope you get well soon!
from Autocar India - Features
Read The Rest:autocarindia...