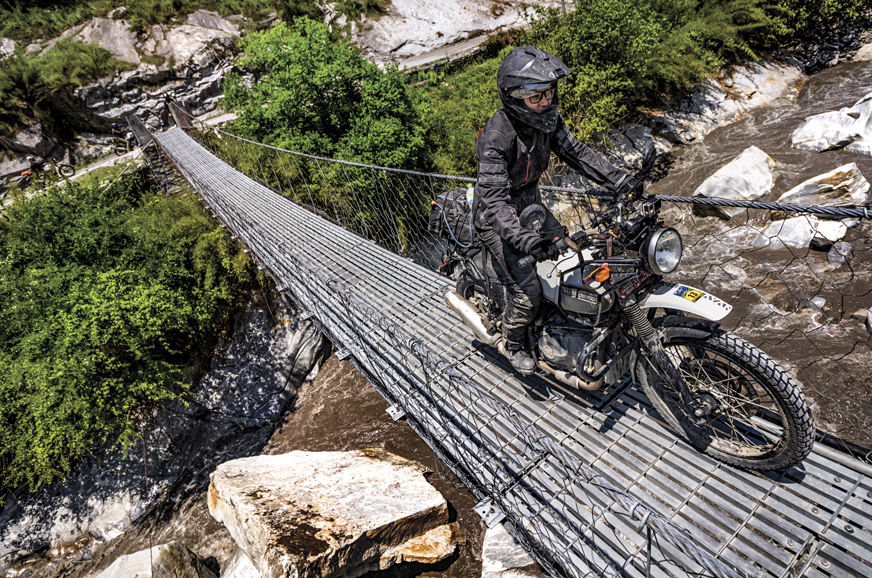 Allow me to start with an omission. I want to omit the first day of this ride from the story because Royal Enfield kindly put me and a bunch of other people they invited in a mini bus and sent us from Kathmandu to Pokhara. I will briefly tell you that it is eight hours of listening to a grumbling diesel engine panting away against the gradients of the crowded highway to Pokhara.
Day two is where things got promising. Santosh, our fearless ride leader and general chess champion (he doesn't go anywhere without a portable chess kit and a very perceptible swag to his stride), tells us that we now have just 80km of broken tarmac left before the road crumbles into nothingness.
The 24 riders listening to his briefing scoff – we've all been to the Indian bit of the Himalayas before and, therefore, think we know what we have signed up for. Janine, the lone German woman on the ride (and possibly the only one in our group who hasn't ridden on similar roads), looks nervous and excited. And that is exactly what I'm feeling too. The ride to Upper Mustang in Nepal – I've been dreaming about it for the best part of a decade. So far, my plans to go there have been shot down because I haven't been able to afford the $500 permit or I haven't had the time. Not this time. This time, I will ride the high road to Lo Manthang. Thank you, Royal Enfield.
The ground reality
I was told 20,000 Nepali rupees should see me through the 10-day ride and that includes food and leeway for a couple of Gorkha beers at the end of the day. I was also told that after Pokhara, there would be no ATMs, so I better carry enough for fuel and additional expenses. I still manage to run out of money at the end of the first day of riding. You see, beers are very expensive in Nepal, as is 3G network (which is there almost all the way to Lo Manthang). You should also know that things get expensive as you move away from Kathmandu, but then start becoming cheaper as you get close to Lo Manthang (because a lot of stuff gets there from China).
I mentally stress about not having money, but, luckily, our support crew from Wild Adventures Nepal account for me not accounting for myself and graciously lend me money for the rest of the trip. This puts my mind at ease, as does the fact that our hotel for the night in Kalopani rests under the shadow of Dhaulagiri and the Annapoorna. I also realise that staring at an 8,000m peak has a way of telling your brain just how inconsequential money is in the grand scheme of things.
Go see Nepal they said, it is an easy ride they said.
What is also rather inconsequential is the actual distance between Pokhara and Lo Manthang (the capital of the kingdom of Lo). At just around 300km, the foolish will decide it can be done in a day but the wise know better. The wise know that this is still relatively uncharted territory and that a flat tyre can get you stranded in the middle of nowhere.
It is for this reason that our itinerary calls for us to cover just around 40-60km a day. It is possible to cover more ground if you have the mountain gods on your side but, then again, said gods have a mind of their own and that is what makes the trip to Upper Mustang what it is – an unpredictable adventure. On this trip, with the weather on our side, we would still take around six to eight hours to cover that rather inconsequential distance because the disappearing roads that Santosh was talking about on the first day have done exactly that.
The road
Google Maps simply refuses to acknowledge a road I rode through a few weeks ago. They apologise for not being able to calculate the distance between Pokhara and Lo Manthang, and it is not entirely Google's fault because this is a road that is just being built.
Google Maps simply refuses to acknowledge that this road exists.
Nepal and China have agreed to convert this old salt road (because caravans roamed this area between Tibet, China and India for centuries carrying salt, wool, cereal and dried meat), into a modern highway and work is on in earnest. This means there are a few differences between what my friend Harsh Man Rai (who did this road just a year ago) says it was and what it is now. According to his experience, the ride last year was much harder – on some sections, it took two days to cover 50km. This year, you can ride the same distance in eight hours. This points to the speed at which these guys are building the road. A lot of the road that was dynamited out of the mountain has been flattened out by heavy machinery, leaving both rider and Royal Enfield Himalayan a reasonably level but very loose surface to ride on. Both have to contest with intense amounts of dust all through the day. This dust chokes the air filter on the bike (so you have to make it a point to clean it regularly) and it infiltrated my deliberately untrimmed nose hair and left me with a hacking cough and a heavy throat for almost 10 days (much harder to clean out).
Be really careful of big rocks hiding under deep water crossings.
It is no doubt a spectacular road – one that throws challenges at you in the form of steep sandy inclines, extremely steep declines covered in loose gravel, rocks over flowing water, slush in some bits, rocks falling off the unstable mountain side in others. If you manage to wrestle through all of that and when you do end up catching your breath and calm your heart, it gets taken away again by the sheer beauty of it all. Riding through the deepest gorge in the world is mesmerising.
Civilization
The nice thing about Nepal is that along the way to Lo Manthang, there are relatively unknown villages that are heartwarmingly pretty and clean. Places like Marpha, a stone-lined village known for its deceptively strong apple brandy, that tiny guesthouse at Samar with its peace and calm, and that apple orchard at Ghemi we camped at – all make you feel like everything is right in the universe. The locals are friendly and the towns are rather small and easy on the eyes.
You have to contend with a lot of sand on this trip.
This, though, isn't a trip where you can expect to get pampered – can't travel without a hot shower, western toilets and room service? Go elsewhere. Love fresh air and being awash in a deep sense of happiness? This is the place to go.
The kingdom of Lo
It isn't what I expected it to be. Years of hearing stories about a forbidden kingdom put romantic ideas in your head but it is no longer so. Lo Manthang, the capital of the kingdom of Lo, is rather alarmingly becoming a tourist destination. Over a thukpa and chowmein lunch (I can't believe how hungry I get at altitudes), a local tells me how the walled city had nothing outside its walls a couple of years ago. Now, there are modern concrete structures that are easy to construct but pay no heed to the old ways. See, the old city is all mud, and traditional construction methods protect their occupants from the extremes of 3,800m weather. Concrete simply doesn't have the same insulating abilities. He tells me that once the highway is built and tourism marches in with its livelihood there will be Jacuzzis and finger bowls on offer.
Lo Manthang still has charm – they don't allow vehicles inside the walls so, you are on foot and walking through a city that is lost in time. Noises in the city consist mainly of horse hooves clattering over and echoing off the stone streets and walls and the occasional chant of the passing monk. Situated between the Tibet Autonomous Region of China to the north and the Dalome municipality of Nepal to the south, Lo Manthang is one of the last strongholds of traditional Tibetan ways in the world and that is why the place attracts the tourists it does.
Change is inevitable
The silence is deafening. The wind has died down, the dogs aren't barking and my fellow riders aren't snoring. Sitting alone outside my tent and thoroughly enjoying the void, I realise that I'm lucky to see this place in the relatively raw shape that it is in now. That new highway between China and Nepal is coming up at the speed of light, and with it, will come rapid modernisation and a loss of the old ways of life. While this is certainly good news for the locals, I can't help but feel sad that this place soon won't offer the adventure (or the peace and quiet) it does now. I'm glad I came here now, I'm glad the high road to Lo lived up to everything I dreamt it to be.
from Autocar India - Features
Read The Rest:autocarindia...